Well, you've probably seen the little tiny 60% keyboards with no arrow keys, no number pad, and no function row, so let's add a few keys to that. Those are the arrow keys and a few of the side keys, depending on what keyboard you get.
A 65% keyboard is you have the regular full-size keyboard you take away the number pad. You take away the function row, you take away home and delete page up may be depending on what you get, but what you still have are the alphanumeric keys, the modifiers, and the keys, so for me.
Best Choice
Good Choice
Don't Miss
Also Consider
Ducky One 2 SF Keyboard (Cherry MX Black)
DURGOD Hades 68 RGB Mechanical Gaming Keyboard - 65% Layout - Cherry Profile - Doubleshot PBT - USB...
DROP + Matt3o MT3 /dev/tty Keycap Set for 65% Keyboards - Compatible with Cherry MX Switches and...
Keychron K6 Bluetooth 5.1 Wireless Mechanical Keyboard with Gateron G Pro Brown Switch/LED...
Best Choice
Ducky One 2 SF Keyboard (Cherry MX Black)
Good Choice
DURGOD Hades 68 RGB Mechanical Gaming Keyboard - 65% Layout - Cherry Profile - Doubleshot PBT - USB...
Don't Miss
DROP + Matt3o MT3 /dev/tty Keycap Set for 65% Keyboards - Compatible with Cherry MX Switches and...
Also Consider
Keychron K6 Bluetooth 5.1 Wireless Mechanical Keyboard with Gateron G Pro Brown Switch/LED...
This is the smallest that I will go down to because I like dedicated arrow keys. If you're okay with using a different layer to access your arrow keys, you can use a 60%, or you should try Quiet Mechanical Keyboard for silent typing.

Then if you need some of those other options, maybe a 10 keyless or a full-size keyboard might be better for you. Being small and very simple looking, it can give a minimalist look and kind of like an uncluttered feel at times.
Let's take a closer look at each keyboard and evaluate its features, design, and more. There are eight excellent 65% keyboards currently available. Let's get started.
Top Rated 65% Gaming Keyboards
1. Ducky One 2SF – Best 65% keyboard for Gaming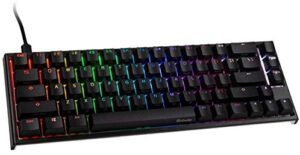 Specs:
Switch type: Cherry MX Red

All New Petite Bezel Design

SF stands for Sixty-Five

Dimensions : 325 x 108 x 40 mm / 635g

1000Hz polling rate
In the box, there is a keyboard which is covered with a dust cover. It keeps the same two-tone look that the ducky one 2 Series is known for with the white and the black it also comes with a USB C chord well and different color keycaps for your escape keys.
It also comes with a keycap puller to switch all your keycaps. The keyboard comes with PBT double-shot key cast, which feels pleasant to the touch. In Ducky SF, SF means 65% keyboard.
The board feels slightly sturdier with this new plastic with minimal flexing. The casing feels slightly different than the ducky one-two mini.
On the left side. They've got a USB C port. They've also got the same three-level kicks and feet on the bottom, which are some of the best and the business because it allows you to get the height to your liking and dial it in.
The RGB is bright as ever on the ducky one to SF. They brought over all the different modes like a rainbow wave and breathing.
They've got reactive modes as well, which are excellent you can program the function layer. The function and alt layer as well, so you can get three layers total of customization there, and what I love is that they give you all the different commands like multimedia and much more in the manuals.
So that you don't have to use a hotkey script overall this is a substantial bill for anybody who loved the ducky ant too many but can't go without the arrow keys.
2. Durgod hades Keyboard – Best 65% Mechanical keyboard in various types of switches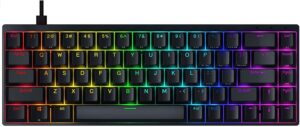 Specs:
RGB Backlit : 16.8 Million Color combinations , multiple backlit mode

Durgod Hades 68 keys Features a Sturdy Aluminium case

Supports DURGOD Hera Engine software

Two Different Cables : Type C To Type C USB Cable and Type C to type-A

Compatibility with Mac and Windows
The Hades can still be a 65% Computer keyboard. It Is Essentially that a 60% computer keyboard using Another column, committed shortcut keys along with a few navigation keys so that the committed arrow keys utilize.
Just One additional column on Account of the Non-Standard Lay-out
The Key Characteristics of This keyboard is its excellent design with little form variable, and aluminum instance,
customizable RGB along with also the Option to Re-map Virtually Every crucial from your computer keyboard.
Keycaps looks great when together with all bright and soaked RGB backlighting. Insert a great deal of diverse RGB outcomes, and also, you've got the optimal RGB 65% mechanical computer keyboard in the marketplace.
The Durgod Hades 68 is quite a decent, modest form variable computer keyboard. It's a subtle plus strong aluminum instance, amazing RGB, fantastic stabilizers, and lots of switch alternatives to get an exact reasonable beginning selling price of ninety-nine bucks.
Total that is just another fantastic 65% computer keyboard that's got probably the optimal/optimally RGB light available in the industry. This computer retails at a similar price tag as some superb full-size keyboards.
3. Drop ALT Mechanical keyboard – Best 65% Hot Swappable Gaming keyboard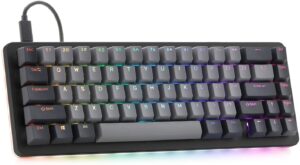 Specs:
A COMPACT LAYOUT: The ALT mechanical keyboard is a smaller take on Drop's CTRL model

A SOLID BUILD: Constructed with a solid aluminum frame

HALO CLEAR SWITCHES: This ALT model comes equipped with Halo Clear switches

HOT-SWAPPABLE SWITCH FUNCTIONALITY.

OPTIMIZED PER-KEY LIGHTING WITH MILLIONS OF COLOR
The alt keyboard still has the arrow keys and a couple of function buttons on the side. It has a solid aluminium chassis with like no flex, and they do come magnet feats that you can either put it in an incline or decline position or like whatever position you like.
Personally, I like to put them in an incline position though I still wish that they have more height-adjustable options also some people find that the magnetic feet pop off.
When you move your keyboard from side to side the switches I choose to come with my keyboard are the koala box whites.
They also come with light gray and darker grey double shot PVC shine through keycaps, which are textured and they feel very friendly and so satisfying.
They also don't shine easily as compared to AVS keycaps, which are a huge plus it has two USB type-c ports on both sides, so that helps with cable management, and in the box, it comes with a 1.5-meter grey USB type-c cable and it's not braided.
You can always use other USB type-c cables, so don't worry about that one and in case you're curious, the other type C port does support USB 2.0 pass-through, so you can't connect a hard drive or anything, but SD card works, and you could probably charge your phone with it as well.
Now what makes this keyboard super customizable is that not only can you program hotkeys, as well as the RGB, LED via amk or master ops on keyboard configurator on their website is that
you can also customize the switches because this keyboard features a hot-swappable PCB, so bottom line, if you ever want a new feel to your keyboard, all you have to do is buy new switches buy new keycaps, and boom, you get a new keyboard
4. Drop Alt High Profile 65%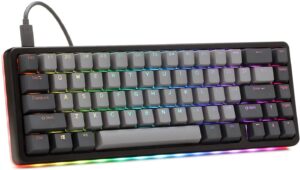 Specs:
The Drop ALT High-Profile is just like the original ALT but now it comes with a tall CNC-aluminum case

THICKER HEAVIER FRAME The ALT High-Profile is constructed from a large block of anodized aluminum nearly twice as heavy as the original ALT

Customize the ALT with ease thanks to hot-swappable switch sockets

The ALT is illuminated with fully customizable RGB backlighting

IP56 waterproof switches are built to keep dust and moisture out
In the box, you also get a USB, a USB C cable, a key switch puller it because the board is hot-swappable, you get keycap puller that also doubles as a screwdriver.
Of course, you get a manual the board is made of two solid pieces of machined aluminium that sandwich a piece of plastic in the middle that provides a beautiful ring lining around the entire keyboard.
Unfortunately, the LEDs are a little too far out, so you are going to see each individual LED or at least where it comes from so you don't get a beautiful flush flow of colors on the buds we don't get just one, but we also get a second USB C port for inputs when plugged into either port the other port can be used as a hub.
Unfortunately, the hub will only transfer data and charge devices at a USB 2.0 port's speed. The backlighting also gets a little different when you plug a second device in for the bottom of the board.
You'll have the screws holding it together, nice rubber feet as well, like a hole that hides the reset button that you access with a pin, which
you'll need to do when reprogramming the board as with many RGB boards.
You can use the function commands to change all the colours and whatnot on the keyboard. You're going to have only a limited amount of like options you can choose from. Still, you can use their configuration software to customize it.
You can find it on the drop website and just like with many other things, it will take a little practice that kind of get to know how to program your keyboard. You can also program it the old fashioned quick way.
but honestly, most people who will buy this keyboard aren't going to need to program it at all. The keycaps are made of PBT plastic, and when you purchase the board, you got a variety of choices for the switches.
5. Drop + Matt3o MT3 – Best 65% Gaming keyboard with comfy Keycaps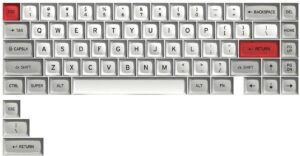 Specs:
Matt3o's groundbreaking MT3 /dev/tty custom keycap set changed the way we type.
Made from PBT plastic—long considered the superior keycap materia
Made from PBT plastic—long considered the superior keycap materia
Compatible Devices: Other keyboards with compatible layout
this MX-compatible set is both long-lasting and resistant to fading and shine that occurs after long hours at the keys
In the past, I've owned si Marge Selectric and si ice currently I do have Mac's keys lime which is also an SI set don't get me wrong,
I love how si looks but typing on it has a whole different story and every single typing experience.
I've had with empty three it Trump's si by fog with clicky switches tactile were just linear switches for my fingertips and my preferences M three is a superior profile no doubt about it.
The scopes on the profile and the curvature of the finger wells make infinitely more interesting to type on an essay and boy is it interesting these caps feel pretty nice under your fingertips.
Despite their height, their edges feel precise and lets you navigate the keyboard easily with your fingers, unlike essay or XDA keycaps where you can lose your fingers on the board much easier.
I'm a pretty big fan of typing on these keycaps, so honestly, you're looking for a more accessible high profile key set that feels too nice to type on this is probably the best bet to go if you want one that has vivid colours or you feel like you like double shabs going with standard SI sets would be your best bet but speaking of best bets this is probably the horse.
you want to choose if you're looking to get your next high profile set it feels good to type on, and if the legends don't bother you or you can get over them, then your Gucci
6. EPOMAKER SK64 – Best 65% Gaming keyboard in Affordable price: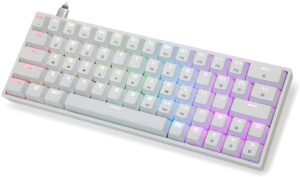 Specs:
RGB Backlit: 16.8 million RGB backlit with many light effects
Superior PBT Material: Made of high-grade thermoplastic with a sturdy
Macro recording & Other features: Record macros through the software
Gateron Optical Switches: Gateron optical switches can be hotswapped at wish and replaced by other switches
Compatibility with Mac and Window: Work well with Windows /Android/Mac OS and so on
The keyboard comes in a nice finished box. Not a plain brown cardboard with a nice finish that doesn't look cheap has a good touch light and clacky giving a substantial feel to it.
I chose the brown switch version as individually programmable color keys via software as heave the software is a little hard to use but overall, this mechanical keyboard is excellent.
It is heavy and sturdy. The nice feature to swap the switches will come in handy when I happen to try new switches, remember that these are only compatible with optical switches we'll mod this little friend soon lovely build.
They are genuine optical gauge with big lenses for the PCB mounted LEDs keycaps are thick abs as well as the case the switch plate is two millimeters thick steel painted white thing is solid with loads of lighting modes including one that is sound activated.
This unit has a microphone and will bounce the LEDs to music overall fantastic build, zero input lag, incredible value for the money.

I have used the sk64 extensively for work and gaming over the last two months, and I recommend it. It is a great value and an excellent introduction to smaller keyboard form factors. The keyboard has a 65 layout with dedicated arrow keys and a one you right shift key.
7. Keychrone K6 

Specs:
An innovative 65% layout (68-key) white LED backlight compact Bluetooth mechanical keyboard
Connects with up to 3 devices via Bluetooth and switch among them easily
With a unique Mac layout and Windows compatibility
The K6 can last up to 72 hours (with static RGB backlit)
Keychrone released their most compact mechanical keep whatever the keychrone k6 since I do not have a lot of space on my desk, I thought it'd be perfect for me.
The keyboard cramped the number of the alphabet roll the arrow keys all together into a four by twelve rectangle if it were any smaller.
I would lose my precious arrow keys the box comes with replacement keycaps for Mac and Windows and the keycap remover the keyboard can be connected via the included USB C.
Two USB cable or up to three Bluetooth devices it has a toggle for Windows and Mac-style inputs the build quality is solid it has an aluminum trim just for kicks.
The keycaps are matte, and the colours are very neutral. They blend into my setup. The keys are pretty high off the table so that you will want the wrist rest.  My model comes with Caterham brown switches, which offer a very pleasurable experience. The activations tactile but smooth; I feel like my fingers are cutting into butter.
Only five Keys can register at the same time when connected via Bluetooth. The latency is also very noticeable, so I mainly used the keyboard with the cable and ninety-five dollars. It's on the pricey side, the cheapest mechanical keyboard starting at around forty dollars for blue switches and if you know, is more for brown switches function-wise, the k-6 is not precisely what the price but I am a sucker for aesthetics.
This keyboard delivers it is simple, clean and elegant there no obnoxious logos or camera designs, and I love this keyboard
8. RK ROYAL KLUDGE RK68 (RK855)

Specs:
Equipped with an upgraded chip, every keystroke is instantly registered and stable wireless connection

65% Layout, Compact Practical: What makes the 68 keys different from the 61/71 keys

1450mAh, More Durable: The core of a wireless keyboard is the battery, RK68 equipped with 1450mAh battery

it's a little bit clicky but it is authentic and original which is the most distinctive mechanical switches

17 dynamic backlit modes will hype your gaming set a unique style
In the box, you will see the keyboard presented in a plastic bag along with a USB-C cable and, hopefully, a manual in yours. Let's talk about the build quality first.
The keyboard has a matte plastic outer body and a white metal top plate to help reflect the RGB. It feels super sturdy with only the slightest bit of flex. On the bottom of the keyboard, you will find a small royal clutch logo placed on the right side, and on the top, you will find the USB-c port placed right in the center on the back of the keyboard.
You will find the Bluetooth on-off switch placed below the sticker with the model number and such on each corner, you will see the pads which help prevent slip on your surface of choice, but they do not flip out to give you any extra elevation.
The only sort of extra angle you'll get from this keyboard is with the frame so keep that in mind if you prefer to have more elevation on your keyboard.
Something you may have noticed in both the name and build of this board is the 68 key design. It's quite similar to a 60%, this keyboard will allow you to pair up to 5 devices simultaneously.
Its battery is 1450 milliamps, which is a good size will last a handful of days. The RGB on this keyboard is amazing.
The white backplate below the keycaps helps reflect the RGB for the underflow, and it does look nice. The shine through the keycaps was also pretty good, and there were plenty of different lighting effects, so to summarize.
I think this keyboard is built well nice keycap, RGB, and has a reasonable price tag to its name the only thing I don't really like is that there are no flip-up rubber feet I think it will take some time to get used to other than that though I think this is a solid option, and I also recommend this keyboard.