We're going to be doing a review of the NPET K10 gaming keyboard this is an excellent gaming keyboard for the price, and it's wrong one of the best bangs for the butt keyboards that you can get right now. About the same as any other keyboard you get so that's no complaint at all for me yeah this is growing one of the best keyboards.
I was going to give my 100% honest opinion, and that's precisely what I'm going to be doing with this keyboard so, this is a semi-mechanical keyboard but before I tell you the specs let's get into it in the box.
---
Best With Affordable Price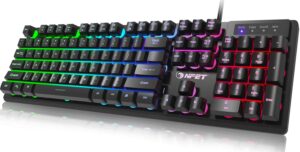 ---
Inside The Box: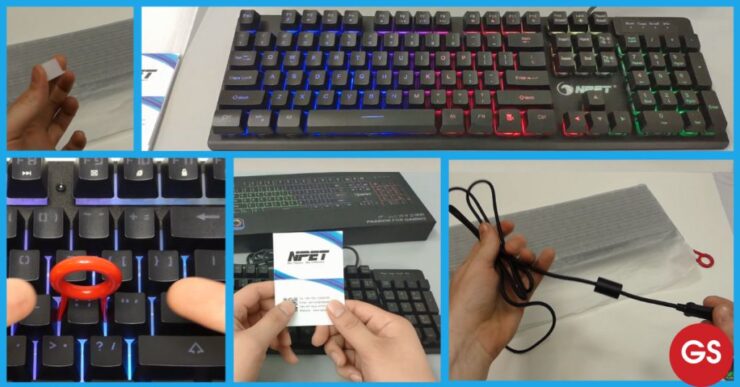 We have the first thing that's going to be is a little key puller which pretty much takes the small keys on the keyboard out of the keyboard the actual keyboard itself it is a pretty lovely packaging it comes with instructions user guide and comes with a key puller and the keyboard.
It did come with a little cover that goes over the USB. Now the first thing we're going to notice is the actual Cable, it comes with one thing you don't see on many generic keyboards is a nice braided cable, and that's exactly what this does come with which is very nice it's a lovely touch.
Not many keyboards do have braided cables, so I do like that that is a plus in my book.
---
Build Quality: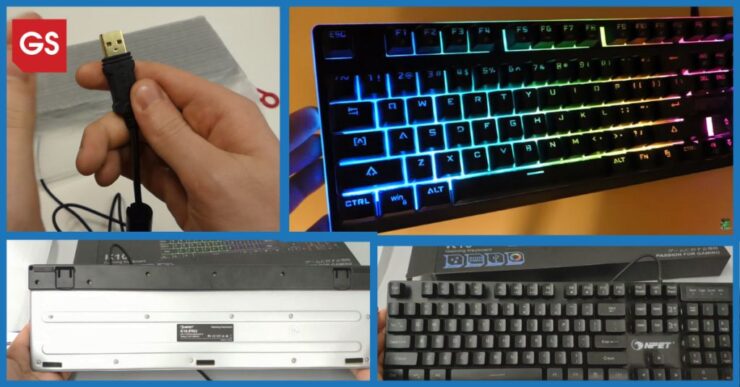 The port is a gold plated USB, so that's never going to rust which is also very nice so, if you're in like a basement or a very moist area this is never going to corrode on you or rust which is very nice.
The Cable does have a very nice length to it so if the PC is far away from your keyboard or from your monitor this is very nice to have.
The cords in some keyboards have the cord directly in the middle. I prefer a cord that's on the right or the left side I don't like the ones in the middle I don't know what's about you guys.
But I don't like how they have them in the middle this is a very nice touch because it's on the right side and it fits my gaming setup perfectly because you won't be able to see the cord as much as if it was in the middle it just it fits my gaming setup to its needs still love so that's another excellent touch so, so far so good
It's a membrane board semi-mechanical which is nice, it's aluminium it has not the whole thing the top portion, the keys are plastic-like standard but the top portion like the front body is made up of aluminium very nice it's very cool another very nice thing about
The backside is made up of plastic no problem it's ok. This keyboard is also water-resistant which is another fantastic feature
they do have rubber on the backside so that when you put it on the table or desk, it doesn't scratch it whatsoever for people who have very nice gaming setups this is a plus because you don't want to scratch that very expensive desk.
---
Design: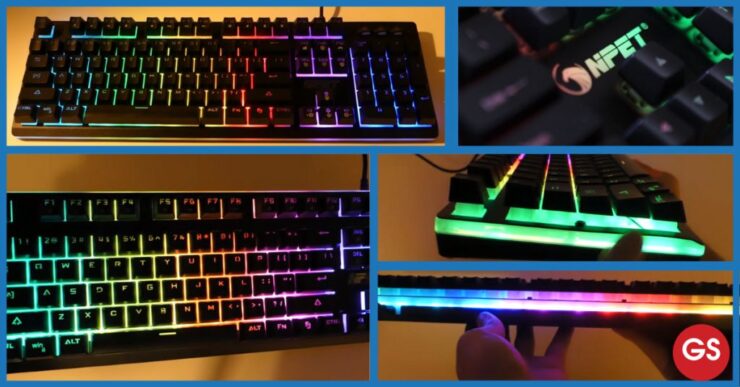 This is a very stylish keyboard it is a full keyboard it's not a chopped keyboard some keyboards do come chopped (numeric part not present).
I do have another one that is chopped, so it doesn't have the numeric keys on the right side.
So it is a membrane semi-mechanical keyboard it's is pretty much exactly like a regular mechanical keyboard, not a crazy click or a feedback click but the sounds pretty good though I like it very much. I love the mechanical keyboard, so this is pretty good there will be npet logo above the arrow keys in the middle which is looking fabulous.
Even the 104 keys are produced with the heavier-duty ABS plastic, which NPET claims is far longer-lasting compared to regular vinyl you will locate on several keyboards.
That got higher marks in my book believing that pricier membrane-style keyboards I have analyzed smudged nearly instantaneously.  Even the keycaps may also be fortified using a dual injection moulding procedure which produces a formidable binding which is immune to keycap fading.
Additionally, it is water-resistant, and I analyzed gingerly using a generous squirt of drinking water out of a jar. These processes are right to proceed.
---
RGB Lightning :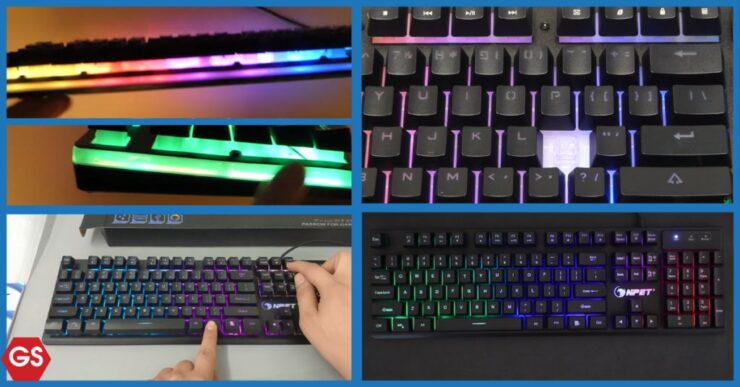 Now let's check out the RGB lights? it looks amazing. It looks nasty. That is very very colourful, it is gorgeous that is a very very nice looking keyboard I haven't seen a little up yet.
Another colour option is going to be pressing F and N ins this changes to red than purple pink blue a prolly turn into the green and different solid colours so if you're a massive fan of the fading into solid colours which is I'm a big fan of it I'm a fan of all these options.
Another Cool thing, the LED that does go around the front, and the sides do make its way over to the back as well it goes along the whole thing this is very very unique and very cool.
Very smooth colour transition there is no flashing, so it's not like a strobes flash
---
Adjust backlit gaming keyboard
Light function adjustment:
1.LED=Turn on/off keyboard backlight and change lighting status backlit
2.FN+Page UP/Down=Brightness increasing/decreasing
3.FN+(+/-)=Increase/Decrease backlit breathing frequency
4.FN+Home/LED=7 colors backlit breathing
---
How to use?
---
Specification:
| | |
| --- | --- |
| Product Name | K10 Wired Gaming Keyboard |
| Product Brand | NPET |
| Weight | 2.02 lbs. |
| Product Dimensions | 17.16 x 5.28 x 1.38 in. |
| Warranty | 2 years |
| Compatibility | Windows Vista, XP, 7, 8, 10, macOS |
| Connectivity | Wired USB |
| Ports | None |
| RGB lights | Yes |
---
Pros & Cons:
---
Conclusion:
The NPET K10 is an appealing launching point for the casual gamer that doesn't want to shell out a lot of money toward a general use/gaming keyboard.
This keyboard was an excellent unique keyboard to unbox because I do like all its features it has a ton of customization options. I'm going to be rocking this keyboard in my gaming setup for quite some time, so that's how good it is that's how much.
I do actually like it if you guys are looking at getting it, I would highly recommend getting it. My final thought about this keyboard is s pretty good quality, A full-size keyboard comes with 104 keys.
Check also this amazing keyboards available on Amazon:
---