EKSA E900 Xbox Gaming Headset-Stereo
【Multi-platform Compatibility】E900 gaming headset with a 3.5mm audio jack is compatible with Xbox One Controller, PlayStation 4, PC, Nintendo 3DS, Laptop, PSP, Tablet

【Humanized & Comfortable Design】The headset has sturdy construction, adjustable metal headband

【Noise-Cancelling Mic & One Key Mute Function】High sensitive microphone with omnidirectional noise reduction tech

Easy-to-use volume adjustment and One key Mic mute switch

Noise-Cancelling Mic & One Key Mute Function
Prices pulled from the Amazon Product Advertising API on:
Product prices and availability are accurate as of the date/time indicated and are subject to change. Any price and availability information displayed on [relevant Amazon Site(s), as applicable] at the time of purchase will apply to the purchase of this product.
---
Inside the box: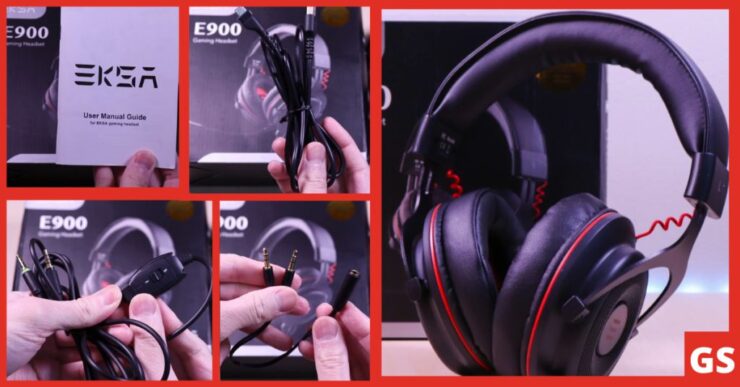 inside the box you get a user guide a USB cable a three-and-a-half millimetre cable with a microphone and audio controls and a three-and-a-half millimetre audio tie the line on the side of the box you have the product specs along with the package.

The band is a leatherette material, and padding is decent all around it's very soft to the touch the earmuffs have the left and right ear indicators inside, and the padding on them is soft as well the cords are exposed on each side.


you get your watch splitter cable with the open end , and then you got your male ends , and you get the exact same mic that you would get on the eksa 900 pro version, and it's a right mic
This is the new eksa 900 gaming headset this is an inexpensive headset for the gamers out there this can work on your ps4, Xbox, Mac and PC.
---
Design: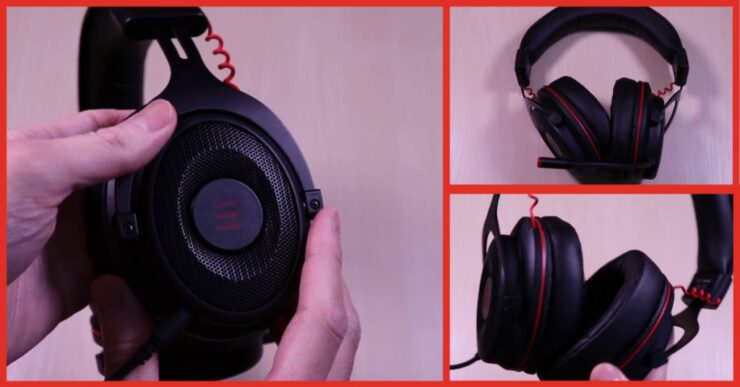 I do like the design language and build materials they're super lightweight that means that you could probably wear these for a long time, they do have a little bit of clamping force right out of the box.

so when you get yours I suggest you put them on a pillow and let them sit for a while and that way they can sort of stretch out or you can do it mainly manually and then just kind of stretch it out yourself but other then that man I love everything.

Contents, as I went over the headset, features a virtual surround sound and decent padding for the headband and earmuffs you also get a detachable microphone and the controls to toggle it on and off my initial impressions of the headsets are that it's relatively light you have the company branding on the top.

On the other side because that's where some business happens on the left ear cup is where your microphone input is, and you do get a microphone it's right near it.

you also have the indicators on the lower band as far as the adjustment, you get a decent amount of travel, so this should accommodate a wide range of sizes it has a thin metal frame each side of the headphones have a red LED accent light
---
Okay, now about its sound: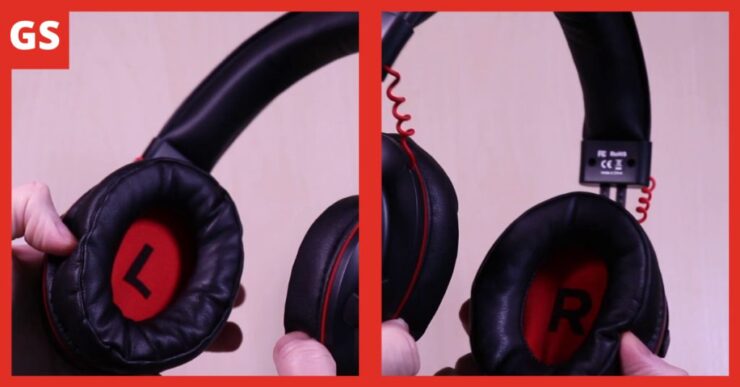 now let's talk about the sound quality of these things well I love it the sound quality goes I say top-notch now they do pack quite a bit of bass.

I was kind of surprised because these have some bass, but they don't have as much as the regular version.

These have an excellent dynamic sound to them which makes them suitable for listening to everything even like Music because that's what I tested them out with first and the Music sounded fantastic it was very well balanced, but it had a nice solid punch of bass in there.

I did have an opportunity to test these out before I started up writing the blog and let me tell you that they are worth 100% of the money these are super budget cheap but they offer excellent quality sound and presence in the soundstage.

The best feature the E900 headset brings to the table is undoubtedly its noise-cancelling microphone. Built to pick up speech clearly while muting background noise, I've already tried the mic out, but it's a great sounding mic.
---
How do they feel?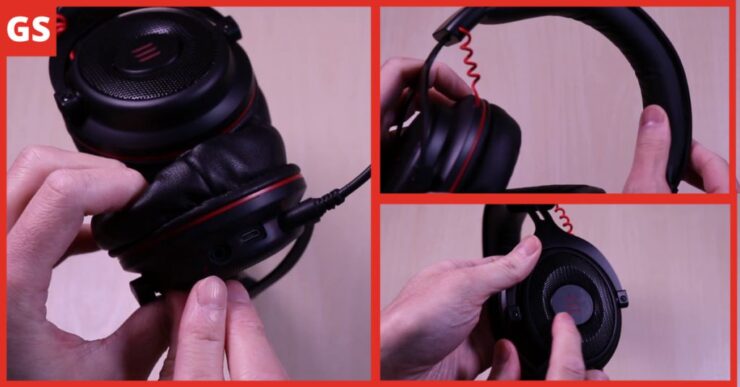 I'll go over audio quality, so I went ahead and plug this thing into my iPhone through this thing, and the audio sounded honest pretty outright I would say there's a lot of bass to it was vibrating on my ear, so that was cool so definitely audio quality.

Wise sounds pretty good and overall just it seems like pretty much everything about this headset is very helpful. Between the audio quality, my quality and only overall build quality. I like how red thing looks little wires coming down right; this is very nice overall.

seems like a very good headset it's not flimsy it feels very nice very solid, so there's that so what I'll go and do now is gone and stop this blog and give you guys my own opinions.

Alright so overall what do I think of this gaming headset well once again as I mentioned earlier I would say this thing is a pretty good headset for a pretty good price again overall build quality seems very nice everything seems to be nice and plush.

but also very solid feel like a very good very nice headset this has made a metal, as far as I know, again the thing seems very solid very nice for the price and also sounds pretty good for the price.
Ear cups are detachable:
you can detach it like that and you can replace it with your own if you want to do don't like these you can return them and for the price if you're going to replace them it still doesn't run you're over budget now.on both ear cups they are detachable.
---
Ports: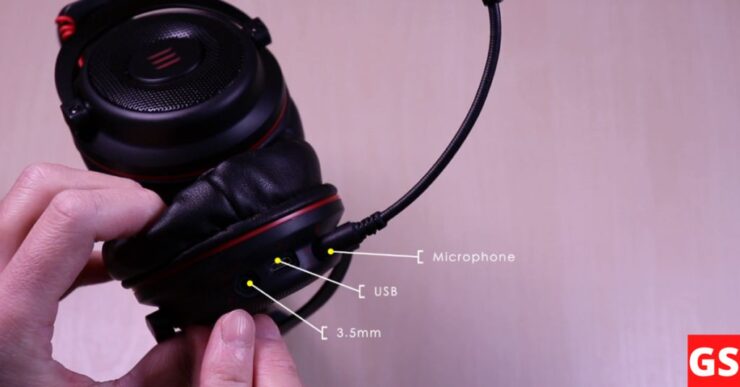 you have the three-and-a-half millimetre port USB port and the microphone port the microphone is detachable. You can rotate it 360 degrees the microphone in three-and-a-half millimetre port has a lot feature

Let me bring out the court because that's where you have some other business happening right there so you got your volume toggle on right and then you have your microphone mute switch are your two accessories.

it will Hance your gaming experience it works on many platforms, and it won't break the bank for those that are seeking an inexpensive headset
---
How to use?
now if you want to use the microphone and the audio portion, of course, the headset together so if you're doing like I don't know online playing something on like a ps4 or something like that or on your PC what you do, or this is for a PC right through little adapter.

Okay so what you would do is this cord plug it , and then you plug this in getting it and then on the back of your PC there should be a microphone and a headphone port.

In this case, this is the microphone plug , so you plug this into microphone port and the headphone port on the back of your PC then boom you would have both audios coming out of speakers and sound for the microphone but if you want to use as a headset for audio-only what you would do is that you would use this plug .

okay and then plug it into your phone your PC or whatever, and this would get you audio as far as I know it you might be able to use this on any unlike a Playstation or something like that you plug it into the controller and I believe that might work for audio and, I guess audio for the microphone
---
Pros & Cons:
---
Conclusion:
The eksa 900 is very comfortable for long periods the sound quality was just right mids and highs were pretty balanced Music, and voices were clear, and those were just enough
I had no issues with the microphone, and it worked well thee 900 is a good headset in my opinion.

very nice for the price so if you're looking for kind of a higher-end I guess gaming headset I do recommend this thing there's nothing negative against it everything seems very nice .

I like the bassman, but then a little bit later on I tried them with tomb raider and yeah you could still feel and sense like where everything's is coming from like voices and knives.

being thrown and stuff, so they give you some good spatial awareness while you're inside of here overall, I say these are a fantastic purchase I don't think you'll be sorry at all if you spend your money on these.
---